Banners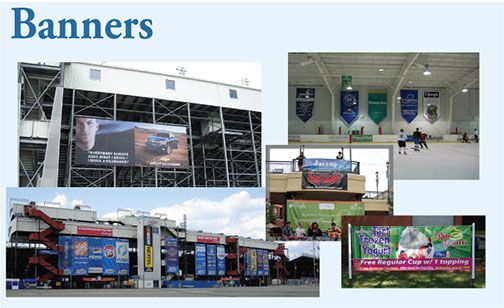 Banner Types
Vinyl Cut Banners- Great for changeable date banners. Short run quantities
Digital Banners - Full color graphics. Short run quantities
Screen Print Banners - Larger quantities

Banner Styles
Event Banners- From directionals, informational, show sponsorships and everything in between
Pole Banners- Great for adding color anywhere that already has light!
Yard Banners- Advertise for traffic to see. There are many great options for displaying
Double sided Banners
Promotional Banners- Let your customers know what the special is.
Store Opening Banners- Let the world know that you are opening
Birthday Banners- Give your friends or family a personal banner for their special day
Possibilities are Endless!

Banner Materials
Light Weight Vinyl- 8 or 9 oz vinyl - Great for indoor use
Heavy Weight Vinyl - 15-18 oz vinyl - More durable for outdoors use
Mesh Vinyl – Outdoor lightweight breathable material
Polypropylene – Great for economical promotional banners
Canvas– Artistic Banner
Tyvek – Can withstand extreme conditions and 100% recyclable
Our top quality banners are durable and can be completely finished with hem, grommets and rope. Please specify finishing when requesting a quote.